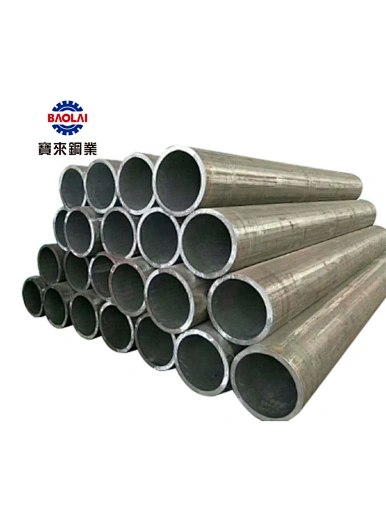 Boiler Tube, Seamless Pipe for Boiler Products
Boiler Tube, Seamless Pipe for Boiler Products
Boiler Tube, Seamless Pipe for Boiler Products

Standards:ASTM A519, DIN1629, DIN2391, ASTM A513, BS6323, EN10305-1, JIS3441

Applications: used for manufacturing pipelines, vessels, equipment, pipe fittings, and steel structure.

Main Steel Tube Grades:St37.0, St44.0, St52.0
BAOLAI® Boiler Tube, Seamless Pipe for Boiler Products adhere to various international specifications and are ideal for use in various applications such as high-temperature boilers, petrochemical industries, and more.
Our high-quality Boiler Tube,
seamless steel pipes for boiler products
s are made to meet the demanding specifications of various industries.
We implement the relevant specifications such as GB3087, GB/T 5310, DIN17175, EN10216, ASME SA-106M, ASME SA192M, ASME SA209M, ASME SA-210M, ASME SA-213M, ASME SA-335M, JIS G 3456, JIS G 3461, JIS G 3462 and so on.
Our products are used for the heating surface of high temperature boilers, economizers, headers, superheaters, reheaters, and for petrochemical industry applications.
We can customize products according to the client's requirements.
Order our
seamless steel pipes for boiler products
 and experience reliable performance and durability.
| | | |
| --- | --- | --- |
| Usage | Specification | Steel Grade |
| Seamless Steel Tube for High Pressure Boiler | GB/T 5310 | 20G、25MnG、15MoG、15CrMoG、12Cr1MoVG、 |
| 12Cr2MoG、15Ni1MnMoNbCu、10Cr9Mo1VNbN | | |
| High Temperature Seamless Carbon Steel Nominal Pipe | ASME SA-106/ | |
| SA-106M | B、C | |
| Seamless Carbon Steel Boil Pipe used for High Pressure | ASME SA-192/ | |
| SA-192M | A192 | |
| Seamless Carbon Molybdenum Alloy Pipe used for Boiler and Superheater | ASME SA-209/ | |
| SA-209M | T1、T1a、T1b | |
| Seamless Medium Carbon Steel Tube & Pipe used for Boiler and Superheater | ASME SA-210/ | |
| SA -210M | A-1、C | |
| Seamless Ferrite and Austenite Alloy Steel Pipe used for Boiler, Superheater and Heat Exchanger | ASME SA-213/ | |
| SA-213M | T2、T5、T11、T12、T22、T91 | |
| Seamless Ferrite Alloy Nominal Steel Pipe applied for High Temperature | ASME SA-335/ | |
| SA-335M | P2、P5、P11、P12、P22、P36、P9、P91、P92 | |
| Seamless Steel Pipe made by Heat-resistant Steel | DIN 17175 | St35.8、St45.8、15Mo3、13CrMo44、10CrMo910 |
| Seamless Steel Pipe for | | |
| Pressure Application | EN 10216 | P195GH、P235GH、P265GH、13CrMo4-5、10CrMo9-10、15NiCuMoNb5-6-4、X10CrMoVNb9-1 |