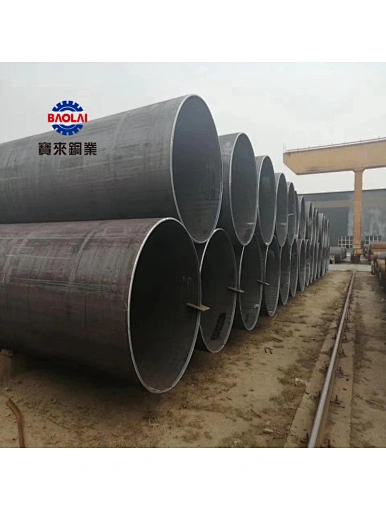 Line Pipe, Pipeline Seamless Steel Pipe Large Diameter
Line Pipe, Pipeline Seamless Steel Pipe Large Diameter
Line Pipe, Pipeline Steel Pipe Large Diameter

Standard: API spec 5l、ISO 3183, gb/t 9711

Application: used for conveying gas, water, and petroleum for oil and gas industries.
Strong and durable, BAOLAI® pipeline seamless steel pipe is perfect for large-scale pipeline construction projects.
Our large diameter line pipe/ seamless steel pipe is made from high-quality materials using advanced manufacturing techniques.
The result is a product that boasts superior strength and durability compared to other pipeline options.
With a seamless design, there are fewer weak points and a lower risk of leaks or failures.
Our pipes are suitable for a range of applications, including transporting oil, gas, and water over long distances.
The line pipes are also highly resistant to corrosion, which ensures longevity and low maintenance costs. Whether you need a reliable solution for industrial or commercial-scale projects, our pipeline seamless steel pipes/ line pipes are the perfect choice.
  

Standard

  

Grade

Yield strength

(mpa)

Tensile strength

(mpa)

Elongation

(j)

API spec 5l
iso 3183
gb/t 9711

psl1

a25/l175

≥172

≥310

a/l210

≥207

≥331

b/l245

≥241

≥414

x42/l290

≥290

≥414

x46/l320

≥317

≥434

x52/l360

≥359

≥455

x56/l390

≥386

≥490

x60/l415

≥414

≥517

x65/l450

≥448

≥531

x70/l485

≥483

≥565

psl2

min

max

min

max

min

b/l245

241

448

441

758

41(27)

x42/l290

290

496

414

758

41(27)

x46/l320

317

524

434

758

41(27)

x52/l360

359

531

455

758

41(27)

x56/l390

386

544

490

758

41(27)

x60/l415

414

565

517

758

41(27)

x65/l450

448

600

531

758

41(27)

x70/l485

483

621

565

758

41(27)

x80/l555

552

690

621

827

101(68)
 Chemical composition (%):
  

Standard

  

Grade

c

mn

p

s

max

max

min

max

max

api spec 5l
iso 3183
gb/t 9711

psl1

a25/l175

0.21

0.60

0.030

0.030

a25p/l175p

0.21

0.60

0.45

0.080

0.030

a/l210

0.22

0.90

0.030

0.030

b/l245

0.28

1.20

0.030

0.030

x42/l290

0.28

1.30

0.030

0.030

x46/l320、x52/l360、x56/390

0.28

1.40

0.030

0.030

x60/l415、x65/l450、x70/l485

0.28

1.40

0.030

0.030

psl2

b/l245

0.24

1.20

0.025

0.015

x42/l290

0.24

1.30

0.025

0.015

x46/l320、x52/l360、x56/l390

0.24

1.40

0.025

0.015

x60/l415、x65/l450、x70/l485

0.24

1.40

0.025

0.015