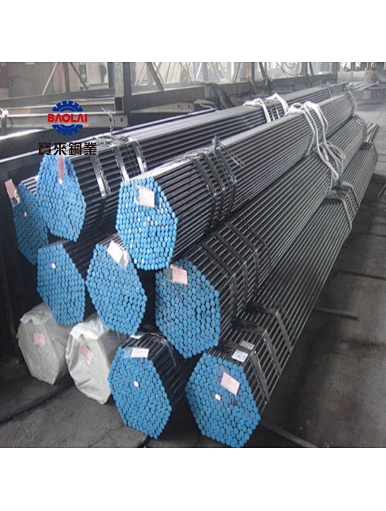 Line Pipe,Pipeline Seamless Steel Pipe Small Diameter
Line Pipe,Pipeline Steel Pipe Small Diameter
Line Pipe, Pipeline Steel Pipe Small Diameter

Standard:api spec 5l、iso 3183, gb/t 9711

Application:used for conveying gas, water and petroleum for oil and gas industries.
BAOLAI® pipeline seamless steel pipes are the perfect solution for small diameter line pipe needs. It provides excellent performance and reliable service for a variety of industrial applications.
Our line pipe and pipeline seamless steel pipes in small diameter sizes offer a range of benefits.
Made with high-quality materials, it ensures premium performance and offers high corrosion resistance, bursting pressure, and cracking resistance.
The seamless steel pipes construction reduces the risk of leaks and ensures a smooth flow of materials.
With easy installation and low maintenance, it is perfect for use in oil and gas, chemical, water, and other industries.
Our Line Pipe, Pipeline Seamless Steel Pipes Small Diameter guarantees efficiency, reliability, and durability, making it the best choice for your pipeline needs.
standard

grade

(mpa)

yield strength

(mpa) 

tensile strength

(%) 

elongation

(j)

api spec 5l
iso 3183
gb/t 9711

psl1

a25/l175

≥172

≥310

a/l210

≥207

≥331

b/l245

≥241

≥414

x42/l290

≥290

≥414

x46/l320

≥317

≥434

x52/l360

≥359

≥455

x56/l390

≥386

≥490

x60/l415

≥414

≥517

x65/l450

≥448

≥531

x70/l485

≥483

≥565

psl2

min

max

min

max

min

b/l245

241

448

441

758

41(27)

x42/l290

290

496

414

758

41(27)

x46/l320

317

524

434

758

41(27)

x52/l360

359

531

455

758

41(27)

x56/l390

386

544

490

758

41(27)

x60/l415

414

565

517

758

41(27)

x65/l450

448

600

531

758

41(27)

x70/l485

483

621

565

758

41(27)

x80/l555

552

690

621

827

101(68)
Chemical composition (%):
  

standard

  

grade

c

mn

p

s

max

max

min

max

max

api spec 5l
iso 3183
gb/t 9711

psl1

a25/l175

0.21

0.60

0.030

0.030

a25p/l175p

0.21

0.60

0.45

0.080

0.030

a/l210

0.22

0.90

0.030

0.030

b/l245

0.28

1.20

0.030

0.030

x42/l290

0.28

1.30

0.030

0.030

x46/l320、x52/l360、x56/390

0.28

1.40

0.030

0.030

x60/l415、x65/l450、x70/l485

0.28

1.40

0.030

0.030

psl2

b/l245

0.24

1.20

0.025

0.015

x42/l290

0.24

1.30

0.025

0.015

x46/l320、x52/l360、x56/l390

0.24

1.40

0.025

0.015

x60/l415、x65/l450、x70/l485

0.24

1.40

0.025

0.015