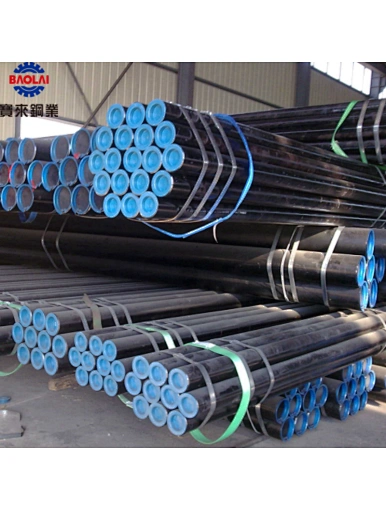 ASTM A106 Seamless Carbon Steel Pipe for High Tempreture Service
ASTM A106 Seamless Carbon Steel Pipe
Carbon steel pipes for High-Temperature service

Standard: ASTM A106

Application: used for bending, border-coiling, and similar shape forming machining.

Main Steel Tube Grades:ASTM A106 Gr.A, Gr.B, Gr.C

Ends procession: Plain end, beveled, threaded

Coating: Black paint, varnished, epoxy coating, polyethylene coating, FBE and 3PE, CRA Clad and Lined.
A high-quality seamless carbon steel pipe designed for high-temperature applications, with ASTM A106 Gr.A, Gr.B, and Gr.C grades available.
BAOLAI® ASTM A106 Seamless Steel Pipe is an ideal solution for any high-temperature application, providing reliable, high-quality performance day in and day out.
Featuring a range of different grades including Gr.A, Gr.B, and Gr.C, this smls pipe/ seamless tube is suitable for use in a range of different industrial settings, including bending, border-coiling, and other shape-forming applications.
Whether you're looking for a reliable solution for your manufacturing process or simply need a functional pipe for your high-temperature application, our ASTM A106 seamless carbon steel pipe is the perfect solution.
Standard  


Grade

Chemical Components

Mechanical Property

C

Si

Mn

P

S

Cu

Ni

Mo

Cr

V

Tensile Strength
(Mpa) 

Yield Strength
(Mpa)

Elongation
(%)

ASTMA106  

Gr. A

≤0.25

≥0.10

0.27~0.93

≤0.035

≤0.035

≤0.40

≤0.40

≤0.15

≤0.40

≤0.08

≥330

≥205

≥30

Gr. B

≤0.30

≥0.10

0.29~1.06

≤0.035

≤0.035

≤0.40

≤0.40

≤0.15

≤0.40

≤0.08

≥415

≥240

≥30

Gr. C

≤0.35

≥0.10

0.29~1.06

≤0.035

≤0.035

≤0.40

≤0.40

≤0.15

≤0.40

≤0.08

≥ 485

≥275

≥ 30