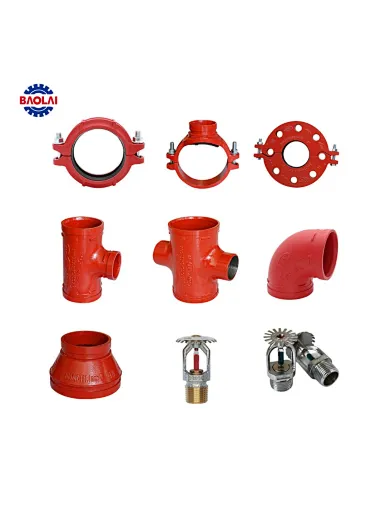 Fire Sprinkler Pipe Fittings
firefighting pipe/ fire sprinkler pipe fittings
Baolai fire pipe fittings provide a reliable and durable connection to ensure maximum water flow for effective firefighting.
Fire pipe fitting/ fire sprinkler pipe fitting is of great importance to the fire sprinkler/ fire protection system, like a rigid coupling for fire protection, tee, grooved reducer with grooved, threaded, grooved cross and threaded cross for fire protection, grooved 90° elbow for fire system, upright sprinkler,s and so on. Baolai offers all fire pipe fitting for your needs.
Our fire pipe fittings are made of high-quality materials to withstand extreme temperatures and pressure.
They are designed to connect fire hoses and pipes for efficient water flow during emergencies.
The fittings have different sizes and shapes to fit various types of pipes and couplings.
They are resistant to corrosion, rust, and other forms of wear and tear, ensuring long-lasting performance.
These fittings are ideal for use in buildings, factories, warehouses, and other structures that require reliable firefighting equipment.
With our fire pipe fittings firefighting pipe fittings, you can rest assured that your firefighting system will function optimally, protecting your property and the people inside.