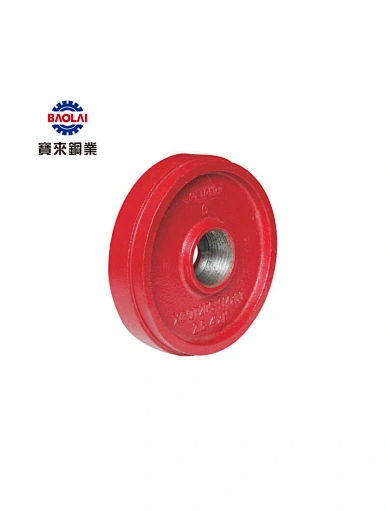 Grooved drain cap with concentric hole
Grooved drain cap with concentric hole
Certificate: UL Listed / FM Approved

Standard: ANSI / UL 213C

Material: Ductile iron ASTM A536, 65-45-12

Centre hole: Female thread, NPT / BSPT

Rated pressure: ≥ 175 psi (1.21 MPa)

Surface: Red painting / hot dip galvanized
This drain cap fire pipe fittings features a grooved design and a concentric hole. It is perfect for drainage applications, preventing clogs and unwanted build-up.
The Grooved Drain Cap with Concentric Hole is an innovative solution for drainage problems.
The grooved design promotes maximum water flow while preventing debris and sediment build-up. Additionally, the concentric hole allows water to flow freely and prevents clogs.
The drain cap is made of durable materials, ensuring long-lasting use.
It is suitable for use in various applications, including in commercial kitchens, outdoor spaces, and residential settings.
With the Grooved Drain Cap with Concentric Hole, you can solve drainage issues and maintain a clean and hygienic environment.
| | | |
| --- | --- | --- |
| Size (Inch / DN / mm) | End to end (mm) | Ref. No. |
| 2″ x 1″ / 50 x 25 / 60.3 x 33.7 | 24 | G2001 (ISO) |
| 2-1/2″ x 1″ / 65 x 25 / 76.1 x 33.7 | 24 | G2002 (ISO) |
| 2-1/2″ x 1-1/2″ / 65 x 40 / 76.1 x 48.3 | 24 | G2003 (UL/FM) |
| 2-1/2″ x 2″ / 65 x 50 / 76.1 x 60.3 | 24 | G2004 (ISO) |
| 3″ x 1/2″ / 80 x 15 / 88.9 x 21.3 | 24 | G2005 (UL/FM) |
| 3″ x 1″ / 80 x 25 / 88.9 x 33.7 | 24 | G2006 (UL/FM) |
| 3″ x 1-1/2″ / 80 x 40 / 88.9 x 48.3 | 24 | G2007 (UL/FM) |
| 3″ x 2″ / 80 x 50 / 88.9 x 60.3 | 24 | G2008 (UL) |
| 4″ x 1/2″ / 100 x 15 / 114.3 x 21.3 | 27 | G2009 (UL/FM) |
| 4″ x 1″ / 100 x 25 / 114.3 x 33.7 | 27 | G2010 (UL/FM) |
| 4″ x 1-1/2″ / 100 x 40 / 114.3 x 48.3 | 27 | G2011 (UL/FM) |
| 4″ x 2″ / 100 x 50 / 114.3 x 60.3 | 27 | G2012 (UL) |
| 5″ x 2″ / 125 x 50 / 139.7 x 60.3 | 27 | G2013 (UL) |
| 6″ x 1/2″ / 150 x 15 / 165.1 x 21.3 | 27 | G2014 (UL/FM) |
| 6″ x 1″ / 150 x 25 / 165.1 x 33.7 | 27 | G2015 (UL/FM) |