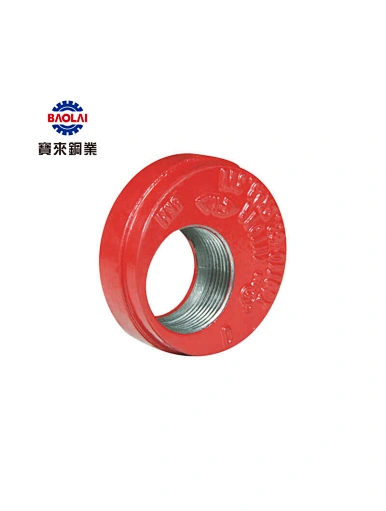 Grooved drain cap with eccentric hole
Grooved drain cap with eccentric hole
Certificate: UL Listed / FM Approved

Standard: ANSI / UL 213C

Material: Ductile iron ASTM A536, 65-45-12

Eccentric hole: Female thread, NPT / BSPT

Rated pressure: ≥ 175 psi (1.21 MPa)

Surface: Red painting / hot dip galvanized
Keep your drains clear from debris and clogs with BAOLAI® innovative grooved drain cap featuring an eccentric hole design.
Our pipe fittings grooved drain cap with eccentric hole effectively prevents debris from clogging your drains.
The unique design allows water to flow freely through the cap while effectively blocking hair and other small particles.
The grooves capture larger debris and prevent it from entering the drain system.
This product 
grooved drain cap with eccentric hole is ideal for the bathroom, kitchen, and laundry room.
It's easy to install and ensures that your pipes remain free from blockages, reducing the need for costly repairs.
Say goodbye to clogged drains and hello to a hassle-free solution!
| | | |
| --- | --- | --- |
| Size (Inch / DN / mm) | End to end (mm) | Ref. No. |
| 2″ x 1″ / 50 x 25 / 60.3 x 33.7 | 25 | G2101 (UL/FM) |
| 2″ x 1-1/2″ / 50 x 40 / 60.3 x 48.3 | 25 | G2102 (UL) |
| 2-1/2″ x 1″ / 65 x 25 / 73.0 x 33.7 | 25 | G2103 (UL/FM) |
| 2-1/2″ x 1″ / 65 x 25 / 76.1 x 33.7 | 24 | G2104 (UL/FM) |
| 2-1/2″ x 1-1/2″ / 65 x 40 / 76.1 x 48.3 | 25 | G2105 (UL/FM) |
| 2-1/2″ x 2″ / 65 x 50 / 76.1 x 60.3 | 25 | G2106 (UL/FM) |
| 3″ x 1″ / 80 x 25 / 88.9 x 33.7 | 24 | G2107 (UL/FM) |
| 3″ x 1-1/2″ / 80 x 40 / 88.9 x 48.3 | 24 | G2108 (UL/FM) |
| 3″ x 2″ / 80 x 50 / 88.9 x 60.3 | 24 | G2109 (UL/FM) |
| 4″ x 1″ / 100 x 25 / 114.3 x 33.7 | 27 | G2110 (UL/FM) |
| 4″ x 1-1/2″ / 100 x 40 / 114.3 x 48.3 | 27 | G2111 (UL/FM) |
| 4″ x 2″ / 100 x 50 / 114.3 x 60.3 | 27 | G2112 (UL/FM) |
| 5″ x 1-1/2″ / 125 x 40 / 139.7 x 48.3 | 27 | G2113 (UL/FM) |
| 5″ x 2″ / 125 x 50 / 139.7 x 60.3 | 27 | G2114 (UL/FM) |
| 6″ x 1-1/2″ / 150 x 40 / 165.1 x 48.3 | 27 | G2115 (UL/FM) |