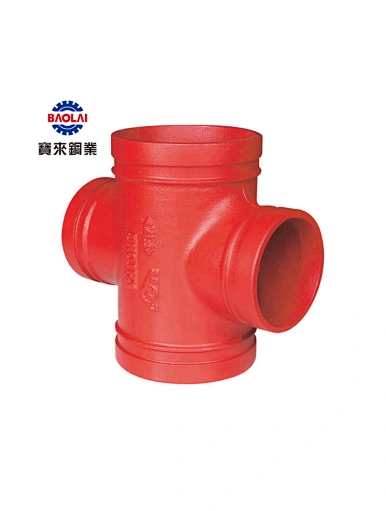 Grooved reducing cross fire pipe fittings
Certificate: UL Listed / FM Approved

Standard: ANSI / UL 213C

Material: Ductile iron ASTM A536, 65-45-12

Rated pressure: ≥ 175 psi (1.21 MPa)

Surface: Red painting / hot dip galvanized
These fittings offer seamless and leak-proof connectivity between different pipeline systems, ideal for fire sprinkler systems.
BAOLAI® grooved reducing cross fire pipe fittings are engineered to deliver reliable and efficient connections between pipes of different diameters.
Made from durable materials, these fittings can withstand high temperatures and high-pressure levels, ensuring a safe and secure pipeline system.
With their grooved design, they provide an easy-to-install, leak-proof solution that allows for quick maintenance and repair.
These fittings are suitable for use in fire control systems, HVAC systems, and other applications that require a dependable pipe connection solution.
Choose our grooved reducing cross fire pipe fittings for a hassle-free installation and lifelong performance.
| | | |
| --- | --- | --- |
| Size (Inch / DN / mm) | Center to end (mm) | Ref. No. |
| 2-1/2″ x 2″ / 65 x 50 / 76.1 x 60.3 | 76 / 76 | G0901 (UL/FM) |
| 3″ x 2″ / 80 x 50 / 88.9 x 60.3 | 86 / 86 | G0902 (UL/FM) |
| 4″ x 2″ / 100 x 50 / 114.3 x 60.3 | 101 / 101 | G0903 (UL/FM) |
| 4″ x 3″ / 100 x 80 / 114.3 x 88.9 | 101 / 101 | G0904 (UL/FM) |
| 5″ x 4″ / 125 x 100 / 139.7 x 114.3 | 124 / 124 | G0905 (UL/FM) |
| 6″ x 2″ / 150 x 50 / 165.1 x 60.3 | 140 / 140 | G0906 (UL/FM) |
| 6″ x 2-1/2″ / 150 x 65 / 165.1 x 76.1 | 140 / 140 | G0907 (UL/FM) |
| 6″ x 3″ / 150 x 80 / 165.1 x 88.9 | 140 / 140 | G0908 (UL/FM) |
| 6″ x 4″ / 150 x 100 / 165.1 x 114.3 | 140 / 140 | G0909 (UL/FM) |
| 6″ x 2″ / 150 x 50 / 168.3 x 60.3 | 140 / 140 | G0910 (UL) |
| 8″ x 2″ / 200 x 50 / 219.1 x 60.3 | 175 / 175 | G0911 (UL/FM) |
| 8″ x 4″ / 200 x 100 / 219.1 x 114.3 | 175 / 175 | G0912 (UL/FM) |
| 8″ x 5″ / 200 x 125 / 219.1 x 139.7 | 175 / 175 | G0913 (UL/FM) |
| 8″ x 6″ / 200 x 150 / 219.1 x 165.1 | 175 / 175 | G0914 (UL/FM) |