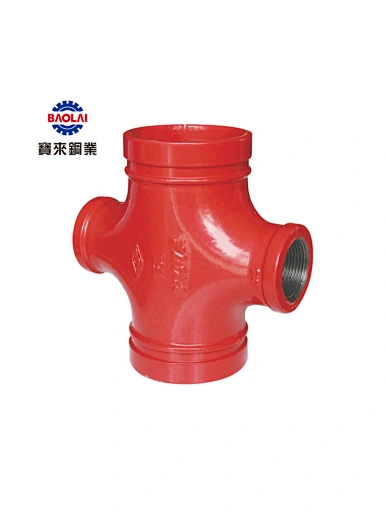 Grooved reducing cross with threaded branch
Grooved reducing cross with threaded branch
Certificate: UL Listed / FM Approved

Standard: ANSI / UL 213C

Material: Ductile iron ASTM A536, 65-45-12

Branch: Female thread, NPT / BSPT

Rated pressure: ≥ 175 psi (1.21 MPa)

Surface: Red painting / hot dip galvanized
This fire pipe fitting by BAOLAI ®is perfect for connecting pipes of differing sizes while allowing for additional threaded connections for added versatility.
The Grooved Reducing Cross with Threaded Branch by BAOLAI ® is a high-quality fire pipe fitting designed to seamlessly connect pipes of different diameters.
The grooved design ensures a secure and watertight fit, while the threaded branch allows for easy attachment of additional pipes or fixtures.
Made from durable materials, this fitting is suitable for a wide range of applications, from plumbing and HVAC to fire suppression and industrial piping.
With its easy-to-install design and reliable performance, this reducing cross is the ideal choice for professionals and DIY enthusiasts alike.
| | | |
| --- | --- | --- |
| Size (Inch / DN / mm) | Center to end (mm) | Ref. No. |
| 2-1/2″ x 2″ / 65 x 50 / 76.1 x 60.3 | 76 / 76 | G1001 (UL/FM) |
| 3″ x 1-1/4″ / 80 x 32 / 88.9 x 42.4 | 86 / 86 | G1002 (UL) |
| 3″ x 1-1/2″ / 80 x 40 / 88.9 x 48.3 | 86 / 86 | G1003 (UL/FM) |
| 3″ x 2″ / 80 x 50 / 88.9 x 60.3 | 86 / 86 | G1004 (UL/FM) |
| 4″ x 1″ / 100 x 25 / 114.3 x 33.7 | 101 / 101 | G1005 (UL/FM) |
| 4″ x 1-1/4″ / 100 x 32 / 114.3 x 42.4 | 101 / 101 | G1006 (UL/FM) |
| 4″ x 1-1/2″ / 100 x 40 / 114.3 x 48.3 | 101 / 101 | G1007 (UL/FM) |
| 4″ x 2″ / 100 x 50 / 114.3 x 60.3 | 101 / 101 | G1008 (UL/FM) |
| 4″ x 2-1/2″ / 100 x 65 / 114.3 x 76.1 | 101 / 101 | G1009 (UL/FM) |
| 4″ x 3″ / 100 x 80 / 114.3 x 88.9 | 101 / 101 | G1010 (UL/FM) |
| 6″ x 1-1/4″ / 150 x 32 / 165.1 x 42.4 | 140 / 140 | G1011 (ISO) |
| 6″ x 1-1/2″ / 150 x 40 / 165.1 x 48.3 | 140 / 140 | G1012 (UL/FM) |
| 6″ x 2″ / 150 x 50 / 165.1 x 60.3 | 140 / 140 | G1013 (UL/FM) |
| 6″ x 2-1/2″ / 150 x 65 / 165.1 x 76.1 | 140 / 140 | G1014 (ISO) |
| 6″ x 3″ / 150 x 80 / 165.1 x 88.9 | 140 / 140 | G1015 (ISO) |