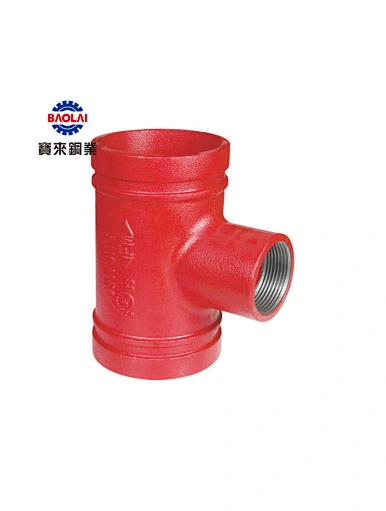 Grooved reducing tee with threaded branch
Grooved reducing tee with threaded branch
Certificate: UL Listed / FM Approved

Standard: ANSI / UL 213C

Material: Ductile iron ASTM A536, 65-45-12

Type: Short / Standard

Branch: Female thread, NPT / BSPT

Rated pressure: ≥ 175 psi (1.21 MPa)

Surface: Red painting / hot dip galvanized
Ensure efficient plumbing with our grooved reducing tee with threaded branch. Perfect for connecting different pipe sizes and branching off for multiple connections.
BAOLAI® grooved reducing tee for fire sprinkler system with threaded branch is a reliable and durable plumbing solution.
The grooved design ensures easy installation and a secure fit, while the threaded branch allows for easy customization and branching to multiple connections.
This reducing tee is perfect for connecting pipes of different sizes, facilitating smooth water flow and efficient plumbing. Made with high-quality materials, it ensures long-lasting use and minimal maintenance.
Use it in various plumbing applications, including residential, commercial, and industrial settings.
Solve your plumbing connection problems today with our grooved reducing tee with threaded branch for fire fighting system.
| | | | |
| --- | --- | --- | --- |
| Size (Inch / DN / mm) | Center to end (mm), Short | Center to end (mm), Standard | Ref. No. |
| 1-1/4″ x 1″ / 32 x 25 / 42.4 x 33.7 | 60 / 60 | / | G0701 (UL) |
| 1-1/2″ x 1″ / 40 x 25 / 48.3 x 33.7 | 60 / 60 | / | G0702 (UL) |
| 1-1/2″ x 1-1/4″ / 40 x 32 / 48.3 x 42.4 | 60 / 60 | / | G0703 (UL) |
| 2″ x 1″ / 50 x 25 / 60.3 x 33.7 | 70 / 70 | 83 / 83 | G0704 (UL/FM) |
| 2″ x 1-1/4″ / 50 x 32 / 60.3 x 42.4 | 70 / 70 | / | G0705 (UL/FM) |
| 2″ x 1-1/2″ / 50 x 40 / 60.3 x 48.3 | 70 / 70 | / | G0706 (UL/FM) |
| 2-1/2″ x 1″ / 65 x 25 / 73.0 x 33.7 | 76 / 76 | / | G0707 (UL/FM) |
| 2-1/2″ x 1-1/4″ / 65 x 32 / 73.0 x 42.4 | 76 / 76 | 95 / 95 | G0708 (UL/FM) |
| 2-1/2″ x 1-1/2″ / 65 x 40 / 73.0 x 48.3 | 76 / 76 | 95 / 95 | G0709 (UL/FM) |
| 2-1/2″ x 2″ / 65 x 50 / 73.0 x 60.3 | 76 / 76 | / | G0710 (UL/FM) |
| 2-1/2″ x 1″ / 65 x 25 / 76.1 x 33.7 | 76 / 76 | / | G0711 (UL/FM) |
| 2-1/2″ x 1-1/4″ / 65 x 32 / 76.1 x 42.4 | 76 / 76 | / | G0712 (UL/FM) |
| 2-1/2″ x 1-1/2″ / 65 x 40 / 76.1 x 48.3 | 76 / 76 | / | G0713 (UL/FM) |
| 2-1/2″ x 2″ / 65 x 50 / 76.1 x 60.3 | 76 / 76 | / | G0714 (UL/FM) |
| 3″ x 1″ / 80 x 25 / 88.9 x 33.7 | 86 / 86 | 108 / 108 | G0715 (UL/FM) |