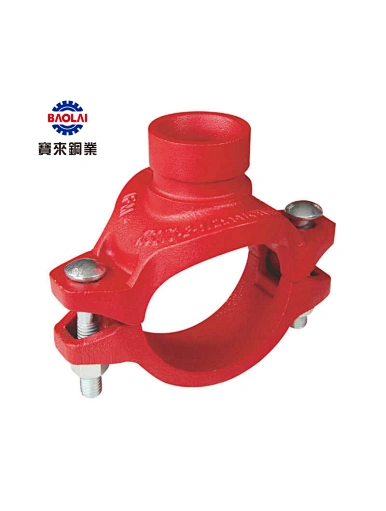 Mechanical tee with grooved branch
Mechanical tee with grooved branch
Certificate: UL Listed / FM Approved

Standard: ANSI / UL 213

Housing: Ductile iron ASTM A536, 65-45-12

Bolt & nut: Carbon steel, detail as G72 ~ G76

Gasket: EPDM, nitrile, silicone rubber, etc.

Rated pressure: ≥ 175 psi (1.21 MPa)

Surface: Red painting / hot dip galvanized
This mechanical tee with grooved branch offers a quick and efficient solution for pipe installation. Its innovative design ensures a strong and stable connection while reducing installation time.
BAOLAI® Mechanical Tee with Grooved Branch is a versatile and durable solution for fire sprinkler system installations.
Its grooved branch allows for quick and secure attachment of pipes, reducing installation time and increasing efficiency.
With its innovative design, this tee ensures a strong and stable connection with minimal leakage.
It is available in a range of sizes and materials to fit any project requirements.
This fire pipe fittings product is ideal for use in industrial, commercial, and residential applications, solving issues such as time-consuming pipe installations and unstable connections.
Its straightforward installation process makes it a reliable and cost-effective solution for professionals and DIY enthusiasts alike.
| | | | |
| --- | --- | --- | --- |
| Size (Inch / DN / mm) | Bolting (n x bolt size), ANSI | Bolting (n x bolt size), EN | Ref. No. |
| 2″ x 1″ / 50 x 25 / 60.3 x 33.7 | 2 – 3/8″ x 55 | 2 – M10 x 55 | G4501 (UL/FM) |
| 2″ x 1-1/4″ / 50 x 32 / 60.3 x 42.4 | 2 – 3/8″ x 55 | 2 – M10 x 57 | G4502 (UL/FM) |
| 2″ x 1-1/2″ / 50 x 40 / 60.3 x 48.3 | 2 – 3/8″ x 55 | 2 – M10 x 57 | G4503 (UL/FM) |
| 2-1/2″ x 1″ / 65 x 25 / 73.0 x 33.7 | 2 – 1/2″ x 70 | 2 – M12 x 70 | G4504 (UL/FM) |
| 2-1/2″ x 1-1/4″ / 65 x 32 / 73.0 x 42.4 | 2 – 1/2″ x 70 | 2 – M12 x 70 | G4505 (UL/FM) |
| 2-1/2″ x 1-1/2″ / 65 x 40 / 73.0 x 48.3 | 2 – 1/2″ x 70 | 2 – M12 x 70 | G4506 (UL/FM) |
| 2-1/2″ x 1″ / 65 x 25 / 76.1 x 33.7 | 2 – 1/2″ x 70 | 2 – M12 x 70 | G4507 (UL/FM) |
| 2-1/2″ x 1-1/4″ / 65 x 32 / 76.1 x 42.4 | 2 – 1/2″ x 70 | 2 – M12 x 70 | G4508 (UL/FM) |
| 2-1/2″ x 1-1/2″ / 65 x 40 / 76.1 x 48.3 | 2 – 1/2″ x 70 | 2 – M12 x 70 | G4509 (UL/FM) |
| 3″ x 1″ / 80 x 25 / 88.9 x 33.7 | 2 – 1/2″ x 75 | 2 – M12 x 76 | G4510 (UL/FM) |
| 3″ x 1-1/4″ / 80 x 32 / 88.9 x 42.4 | 2 – 1/2″ x 75 | 2 – M12 x 76 | G4511 (UL/FM) |
| 3″ x 1-1/2″ / 80 x 40 / 88.9 x 48.3 | 2 – 1/2″ x 75 | 2 – M12 x 76 | G4512 (UL/FM) |
| 3″ x 2″ / 80 x 50 / 88.9 x 60.3 | 2 – 1/2″ x 75 | 2 – M12 x 76 | G4513 (UL/FM) |
| 4″ x 1″ / 100 x 25 / 114.3 x 33.7 | 2 – 1/2″ x 75 | 2 – M12 x 76 | G4514 (UL/FM) |
| 4″ x 1-1/4″ / 100 x 32 / 114.3 x 42.4 | 2 – 1/2″ x 75 | 2 – M12 x 76 | G4515 (UL/FM |