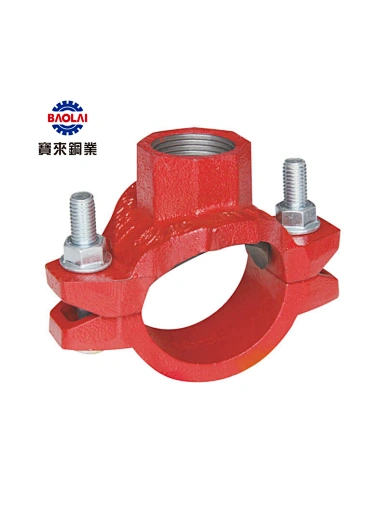 Mechanical tee with threaded branch
Mechanical tee with threaded branch
Certificate: UL Listed / FM Approved

Standard: ANSI / UL 213

Housing: Ductile iron ASTM A536, 65-45-12

Bolt & nut: Carbon steel, detail as G72 ~ G76

Gasket: EPDM, nitrile, silicone rubber, etc.

Branch: Female thread, NPT / BSPT

Rated pressure: ≥ 175 psi (1.21 MPa)

Surface: Red painting / hot dip galvanized
This mechanical tee with threaded branch offers a hassle-free and secure way of branching pipelines. It is durable, easy to install, and fits various pipe sizes.
BAOLAI® mechanical tee with threaded branch is designed with top-quality materials to ensure durability and reliability.
It is easy to install and does not require any special tools.
This fire pipe fitting for fire sprinkler system offers a secure connection and eliminates the need for welding, which can be time-consuming and expensive.
Our tee  fits various pipe sizes and is suitable for use in various applications including, water, gas, and oil pipelines.
Our mechanical tee with threaded branch is the perfect solution for branching pipelines, and it is an excellent choice for professionals who want durability, convenience, and affordability.
| | | | |
| --- | --- | --- | --- |
| Size (Inch / DN / mm) | Bolting (n x bolt size), ANSI | Bolting (n x bolt size), EN | Ref. No. |
| 1-1/4″ x 1/2″ / 32 x 15 / 42.4 x 21.3 | / | 2 – M10 x 35 | G4601 (UL/FM) |
| 1-1/4″ x 3/4″ / 32 x 20 / 42.4 x 26.9 | / | 2 – M10 x 35 | G4602 (UL) |
| 1-1/4″ x 1″ / 32 x 25 / 42.4 x 33.7 | / | 2 – M10 x 35 | G4603 (ISO) |
| 1-1/2″ x 1″ / 40 x 25 / 48.3 x 33.7 | / | 2 – M10 x 35 | G4604 (UL) |
| 2″ x 1/2″ / 50 x 15 / 60.3 x 21.3 | 2 – 3/8″ x 55 | 2 – M10 x 57 | G4605 (UL/FM) |
| 2″ x 3/4″ / 50 x 20 / 60.3 x 26.9 | 2 – 3/8″ x 55 | 2 – M10 x 57 | G4606 (UL/FM) |
| 2″ x 1″ / 50 x 25 / 60.3 x 33.7 | 2 – 3/8″ x 55 | 2 – M10 x 57 | G4607 (UL/FM) |
| 2″ x 1-1/4″ / 50 x 32 / 60.3 x 42.4 | 2 – 3/8″ x 55 | 2 – M10 x 57 | G4608 (UL/FM) |
| 2″ x 1-1/2″ / 50 x 40 / 60.3 x 48.3 | 2 – 3/8″ x 55 | 2 – M10 x 57 | G4609 (UL/FM) |
| 2-1/2″ x 1/2″ / 65 x 15 / 73.0 x 21.3 | 2 – 1/2″ x 70 | 2 – M12 x 70 | G4610 (UL/FM) |
| 2-1/2″ x 3/4″ / 65 x 20 / 73.0 x 26.9 | 2 – 1/2″ x 70 | 2 – M12 x 70 | G4611 (UL/FM) |
| 2-1/2″ x 1″ / 65 x 25 / 73.0 x 33.7 | 2 – 1/2″ x 70 | 2 – M12 x 70 | G4612 (UL/FM) |
| 2-1/2″ x 1-1/4″ / 65 x 32 / 73.0 x 42.4 | 2 – 1/2″ x 70 | 2 – M12 x 70 | G4613 (UL/FM) |
| 2-1/2″ x 1-1/2″ / 65 x 40 / 73.0 x 48.3 | 2 – 1/2″ x 70 | 2 – M12 x 70 | G4614 (UL/FM) |
| 2-1/2″ x 1/2″ / 65 x 15 / 76.1 x 21.3 | 2 – 1/2″ x 70 | 2 – M12 x 70 | G4615 (UL/FM) |