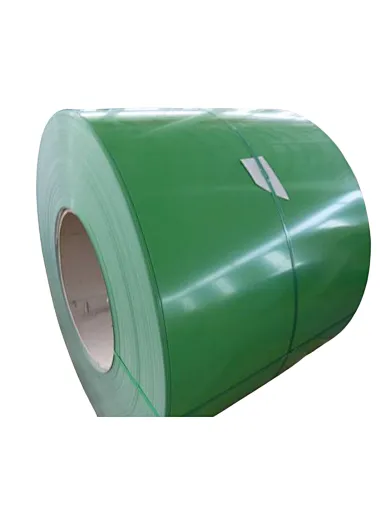 Color Coated Coil, Steel Coil
Substrate : Galvanized steel

Thickness: 0.15 mm-1.2 mm

Width: 600 mm-1,250 mm

Coil Weight: 3-5 tons (can be customized)

Painting Types: PE, SMP, HDP, PVDF

Painting Thickness:Top: 11-35 μm/ Back: 5-14 μm

Zinc Coating Thickness: 15-275 g/㎡

Colors: As per RAL Color (custom patterns are available)
Get the best quality color-coated coil in BAOLAI  for your construction needs. BAOLAI is professional steel coil supplier since 1991. Our color coil was exported worldwide.
Specification
A color coated coil is a type of steel coil that has been coated with a layer of paint or other protective coating. It is used primarily in the construction industry, for roofing and siding applications. The coating on the coil helps to protect it from corrosion and other environmental damage, as well as adding an aesthetic element to the finished product.

Color coated coils come in a variety of colors and finishes, from matte to glossy, and can be customized to meet the specific needs of a project. The coatings used on these coils can also vary, depending on the intended use and environmental conditions. Some coatings are designed for harsh outdoor environments, while others are more suited for indoor applications.

The process of creating a color coated coil involves several steps, including cleaning and pre-treating the steel surface, applying a primer coat, and then applying the final color coat. The coatings are typically applied using a coil coating process, which is a continuous, automated process that allows for precise control over the thickness and consistency of the coating.

The benefits of using a color coated coil in construction include increased durability and resistance to environmental damage, as well as improved aesthetics. These coils are also lightweight and easy to work with, making them a popular choice for a wide range of building applications.

Overall, color coated coils offer a versatile and durable solution for the construction industry, providing both functional and aesthetic benefits for a variety of applications.