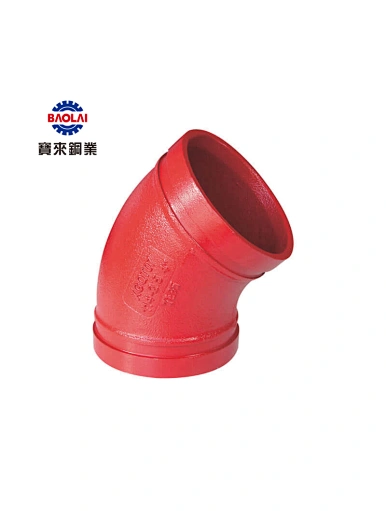 Grooved 45° Elbow for Fire Sprinkler System
Certificate: UL Listed / FM Approved

Standard: ANSI / UL 213C

Material: Ductile iron ASTM A536, 65-45-12

Type: Standard / Long

Rated pressure: ≥ 175 psi (1.21 MPa)

Surface: Red painting / hot dip galvanized
This grooved 45° elbow is a vital component of any fire sprinkler system, ensuring maximum water pressure and efficient water distribution.
BAOLAI® grooved 45° elbow is made from high-quality materials and designed to ensure maximum water flow and distribution efficiency.
It features a grooved, leak-free seal that ensures a reliable, consistent connection, even under high-pressure situations.
Additionally, this elbow is designed to withstand extreme temperatures and is suitable for use in a variety of fire sprinkler system setups.
This product guarantees a long lifespan and offers great value for your money.
Invest in BAOLAI® grooved 45° elbow today and ensure your fire sprinkler system operates at its optimal efficiency level!
| | | | |
| --- | --- | --- | --- |
| Size | Standard radius (mm) | Long radius (mm) | Ref. No. |
| 1″ / DN25 / 33.7mm | 45 | / | G0201 (UL/FM) |
| 1-1/4″ / DN32 / 42.4mm | 45 | / | G0202 (UL/FM) |
| 1-1/2″ / DN40 / 48.3mm | 45 | / | G0203 (UL/FM) |
| 2″ / DN50 / 60.3mm | 51 | 70 | G0204 (UL/FM) |
| 2-1/2″ / DN65 / 73.0mm | 57 | 76 | G0205 (UL/FM) |
| 2-1/2″ / DN65 / 76.1mm | 57 | / | G0206 (UL/FM) |
| 3″ / DN80 / 88.9mm | 64 | 86 | G0207 (UL/FM) |
| 4″ / DN100 / 114.3mm | 76 | 102 | G0208 (UL/FM) |
| 5″ / DN125 / 139.7mm | 83 | / | G0209 (UL/FM) |
| 5″ / DN125 / 141.3mm | 83 | / | G0210 (UL/FM) |
| 6″ / DN150 / 165.1mm | 89 | / | G0211 (UL/FM) |
| 6″ / DN150 / 168.3mm | 89 | 140 | G0212 (UL/FM) |
| 8″ / DN200 / 219.1mm | 108 | 184 | G0213 (UL/FM) |
| 10″ / DN250 / 273.0mm | 121 | 159 | G0214 (UL/FM) |
| 12″ / DN300 / 323.9mm | 133 | 191 | G0215 (UL/FM) |