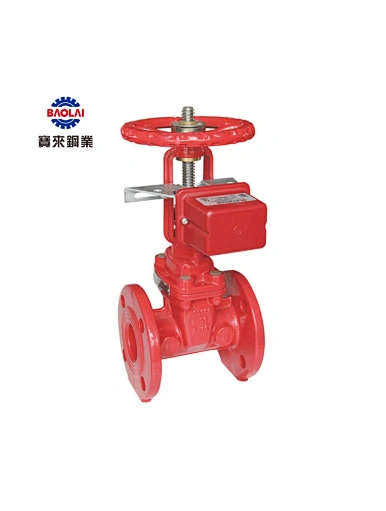 Flanged OS&Y gate valve
Certificate: UL Listed / FM Approved

Standard: BS EN 1074-2

Connection: Flanged as EN 1092-2

Indicator: Non / with supervisory switch

Temperature: 0°C to 80°C

W. pressure: PN 16

Surface: FBE coating as AWWA C550
A gate valve with flanged connection that operates using Outside Stem and Yoke, and cuts off water flow by lowering the gate.
The Flanged OS&Y Gate Valve is a high-quality valve designed to control water flow in industrial applications. Featuring Outside Stem and Yoke operation via a gate type valve disc, this valve is easy to install and suitable for a wide range of applications, especially fire sprinkler system.
The pipe fitting- valve is constructed with a highly durable body and a reliable gate disc, creating a powerful sealing effect that dramatically reduces the risk of leaks or failures.
This valve is perfect for users who need to control the flow of water in their industrial processes, and is especially useful in situations where water needs to be cut off completely.
The Flanged OS&Y Gate Valve is a versatile and easy-to-use valve that represents the perfect balance between performance and reliability.
| | | |
| --- | --- | --- |
| Size | L (mm) | Working pressure |
| 2″ / DN50 / 60.3mm | 178 | PN 16 |
| 2-1/2″ / DN65 / 76.1mm | 190 | PN 16 |
| 3″ / DN80 / 88.9mm | 203 | PN 16 |
| 4″ / DN100 / 114.3mm | 229 | PN 16 |
| 5″ / DN125 / 139.7mm | 254 | PN 16 |
| 6″ / DN150 / 165.1mm | 267 | PN 16 |
| 8″ / DN200 / 219.1mm | 292 | PN 16 |
| 10″ / DN250 / 273.0mm | 330 | PN 16 |
| 12″ / DN300 / 323.9mm | 356 | PN 16 |
| 14″ / DN350 / 355.6mm | 381 | PN 16 |
| 16″ / DN400 / 406.4mm | 406 | PN 16 |
| 18″ / DN450 / 457mm | 432 | PN 16 |
| 20″ / DN500 / 508mm | 457 | PN 16 |
| 24″ / DN600 / 610mm | 508 | PN 16 |