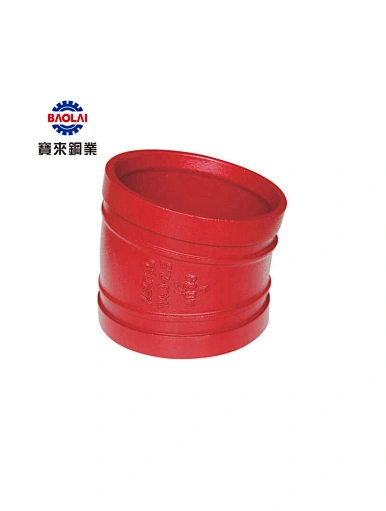 Grooved 11.25° elbow for fire sprinkler system
Certificate: UL Listed / FM Approved

Standard: ANSI / UL 213C

Material: Ductile iron ASTM A536, 65-45-12

Type: Standard radius

Rated pressure: ≥ 175 psi (1.21 MPa)

Surface: Red painting / hot dip galvanized
A reliable and durable grooved elbow that is ideal for fire sprinkler systems, delivering a seamless and secure connection.
BAOLAI® grooved 11.25° elbow is the perfect solution for your fire sprinkler system needs. Made from superior materials, this Grooved 11.25° elbow is built to last, with a solid and reliable connection that ensures optimal performance.
Whether you are installing a new system or replacing old components, our grooved elbow makes the process seamless and secure.
Its grooved design ensures easy installation and a tight seal, eliminating the need for messy adhesives or complicated welding.
With this grooved 11.25°  elbow, you can trust that your fire sprinkler system will work efficiently and effectively, delivering peace of mind and protection to your property.
| | | |
| --- | --- | --- |
| Size | Standard radius (mm) | Ref. No. |
| 1″ / DN25 / 33.7mm | 35 | G0401 |
| 1-1/4″ / DN32 / 42.4mm | 35 | G0402 |
| 1-1/2″ / DN40 / 48.3mm | 35 | G0403 |
| 2″ / DN50 / 60.3mm | 35 | G0404 |
| 2-1/2″ / DN65 / 73.0mm | 38 | G0405 |
| 2-1/2″ / DN65 / 76.1mm | 38 | G0406 |
| 3″ / DN80 / 88.9mm | 38 | G0407 |
| 4″ / DN100 / 114.3mm | 48 | G0408 |
| 5″ / DN125 / 139.7mm | 51 | G0409 |
| 6″ / DN150 / 165.1mm | 51 | G0410 |
| 6″ / DN150 / 168.3mm | 51 | G0411 |
| 8″ / DN200 / 219.1mm | 51 | G0412 |