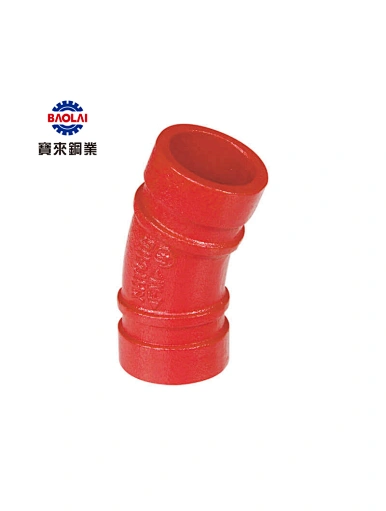 Grooved 22.5° elbow for fire sprinkler system
Certificate: UL Listed / FM Approved

Standard: ANSI / UL 213C

Material: Ductile iron ASTM A536, 65-45-12

Type: Standard radius

Rated pressure: ≥ 175 psi (1.21 MPa)

Surface: Red painting / hot dip galvanized
Ensure a well-functioning fire sprinkler system with our fire pipe fiitings-grooved 22.5° elbow.
BAOLAI® grooved 22.5° elbow for fire sprinkler systems provides a secure and efficient connection between pipes.
It features a unique grooved design, which allows for easy installation and maintenance.
The elbow is made of durable and corrosion-resistant materials, ensuring a long-lasting and cost-effective solution for your fire sprinkler needs.
With its precision engineering, our elbow guarantees perfect fittings and leak-proof performance.
Suitable for both residential and commercial buildings, our grooved 22.5° elbow is an ideal solution for a wide range of fire protection applications.
Protect your property and loved ones, while ensuring compliance with all safety standards.
Order your grooved 22.5° elbow fire pipe fittings today and enjoy peace of mind and exceptional performance!
| | | |
| --- | --- | --- |
| Size | Standard radius (mm) | Ref. No. |
| 1″ / DN25 / 33.7mm | 41 | G0301 |
| 1-1/4″ / DN32 / 42.4mm | 45 | G0302 |
| 1-1/2″ / DN40 / 48.3mm | 45 | G0303 |
| 2″ / DN50 / 60.3mm | 48 | G0304 |
| 2-1/2″ / DN65 / 73.0mm | 51 | G0305 |
| 2-1/2″ / DN65 / 76.1mm | 51 | G0306 |
| 3″ / DN80 / 88.9mm | 57 | G0307 |
| 4″ / DN100 / 114.3mm | 73 | G0308 |
| 5″ / DN125 / 139.7mm | 73 | G0309 |
| 6″ / DN150 / 165.1mm | 79 | G0310 |
| 6″ / DN150 / 168.3mm | 79 | G0311 |
| 8″ / DN200 / 219.1mm | 98 | G0312 |