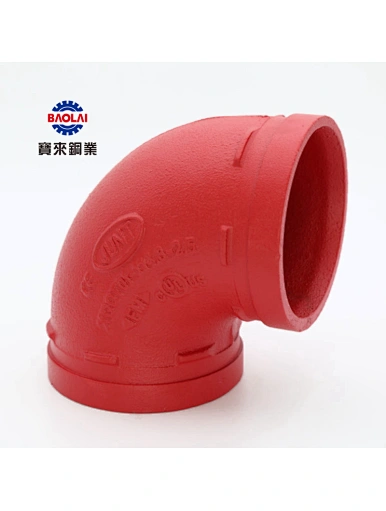 Grooved 90° Elbow for Fire Sprinkler System
Grooved 90° Elbow, Fire pipe fittings
Certificate: UL Listed / FM Approved

Standard: ANSI / UL 213C

Material: Ductile iron ASTM A536, 65-45-12

Type: Short / Standard / Long

Rated pressure: ≥ 175 psi (1.21 MPa)

Surface: Red painting / hot dip galvanized
This grooved 90° elbow is designed for use in fire sprinkler systems, providing a secure and efficient connection. This grooved 90° elbow is made from high-quality materials and is precision-engineered to work seamlessly with fire sprinkler systems.
The grooved connection ensures a secure fit, and the 90° elbow design allows for efficient routing of piping.
This product is versatile and can be used in a variety of applications and configurations.
With its reliable performance and ease of installation, this grooved 90° elbow is the perfect solution for fire sprinkler systems.
| | | | |
| --- | --- | --- | --- |
| Size | Short radius (mm) | Standard radius (mm) | Ref. No. |
| 1″ / DN25 / 33.7mm | 57 | 57 | G0101 (UL/FM) |
| 1-1/4″ / DN32 / 42.4mm | 60 | 70 | G0102 (UL/FM) |
| 1-1/2″ / DN40 / 48.3mm | 60 | 70 | G0103 (UL/FM) |
| 2″ / DN50 / 60.3mm | 70 | 83 | G0104 (UL/FM) |
| 2-1/2″ / DN65 / 73.0mm | 76 | 95 | G0105 (UL/FM) |
| 2-1/2″ / DN65 / 76.1mm | 76 | 95 | G0106 (UL/FM) |
| 3″ / DN80 / 88.9mm | 86 | 108 | G0107 (UL/FM) |
| 4″ / DN100 / 114.3mm | 102 | 127 | G0108 (UL/FM) |
| 5″ / DN125 / 139.7mm | 122 | 140 | G0109 (UL/FM) |
| 5″ / DN125 / 141.3mm | 122 | 140 | G0110 (UL/FM) |
| 6″ / DN150 / 165.1mm | 140 | 165 | G0111 (UL/FM) |
| 6″ / DN150 / 168.3mm | 140 | 165 | G0112 (UL/FM) |
| 8″ / DN200 / 219.1mm | 175 | 197 | G0113 (UL/FM) |
| 10″ / DN250 / 273.0mm | 215 | 229 | G0114 (UL/FM) |
| 12″ / DN300 / 323.9mm | 245 | 254 | G0115 (UL/FM) |