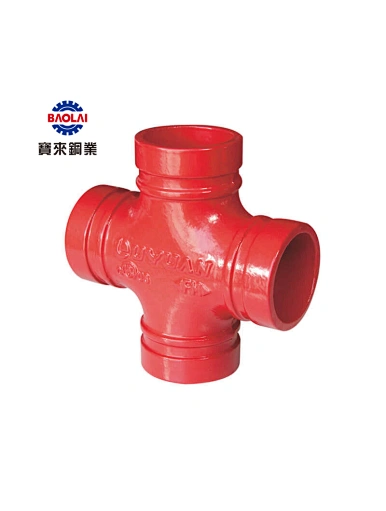 Grooved straight cross (Equal cross)
Grooved straight cross (Equal cross)
Certificate: UL Listed / FM Approved

Standard: ANSI / UL 213C

Material: Ductile iron ASTM A536, 65-45-12

Rated pressure: ≥ 175 psi (1.21 MPa)

Surface: Red painting / hot dip galvanized
Streamline your piping system with our grooved straight cross fittings. Perfect balance between efficiency and durability.
Our grooved straight cross fittings provide a reliable and efficient solution for your piping needs.
Made of high-quality materials, these fittings are designed for durability and long service life.
The grooved design allows for quick and easy installation, with no welding required, saving you time and money.
These fittings are suitable for a variety of applications, including plumbing, heating, and process piping systems.
Whether you are building a new system or replacing old fittings, our grooved straight cross fittings are the perfect choice.
Trust us for consistent performance and high-quality products.
| | | |
| --- | --- | --- |
| Size | Center to end (mm) | Ref. No. |
| 1-1/4″ / DN32 / 42.4mm | 70 | G0801 (UL/FM) |
| 1-1/2″ / DN40 / 48.3mm | 70 | G0802 (UL/FM) |
| 2″ / DN50 / 60.3mm | 70 | G0803 (UL/FM) |
| 2-1/2″ / DN65 / 73.0mm | 76 | G0804 (UL/FM) |
| 2-1/2″ / DN65 / 76.1mm | 76 | G0805 (UL/FM) |
| 3″ / DN80 / 88.9mm | 86 | G0806 (UL/FM) |
| 4″ / DN100 / 114.3mm | 101 | G0807 (UL/FM) |
| 5″ / DN125 / 139.7mm | 124 | G0808 (UL/FM) |
| 5″ / DN125 / 141.3mm | 124 | G0809 (UL/FM) |
| 6″ / DN150 / 165.1mm | 140 | G0810 (UL/FM) |
| 6″ / DN150 / 168.3mm | 140 | G0811 (UL/FM) |
| 8″ / DN200 / 219.1mm | 175 | G0812 (UL/FM) |
| 10″ / DN250 / 273.0mm | 215 | G0813 (UL/FM) |
| 12″ / DN300 / 323.9mm | 254 | G0814 (UL/FM) |