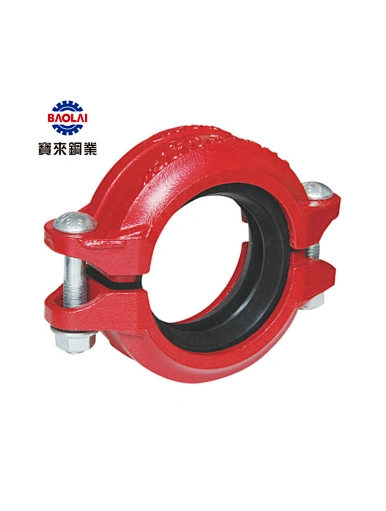 Rigid grooved coupling
Certificate: UL Listed / FM Approved

Standard: ANSI / UL 213

Housing: Ductile iron ASTM A536, 65-45-12

Bolt & nut: Carbon steel, detail as G72 ~ G76

Gasket: EPDM, nitrile, silicone rubber, etc.

Rated pressure: ≥ 175 psi (1.21 MPa)

Surface: Red painting / hot dip galvanized
Get reliable and cost-effective pipe connection with BAOLAI® Rigid Grooved Coupling. Suitable for use in various industrial, commercial, and residential applications.
Our Rigid Grooved Coupling is a mechanical pipe connection solution that provides a secure and efficient joint.
This pipe fitting coupling is easy to install and remove with standard tools and requires no welding or threading.
The grooved design allows for flexibility and vibration-resistant operation.
Made from high-grade materials, our Coupling is highly durable and corrosion-resistant, ensuring long-lasting performance. Ideal for use in HVAC, fire protection system, plumbing, and process piping applications.
Say goodbye to leaks and enjoy hassle-free fire sprinkler system with our pipe fitting- Rigid Grooved Coupling.
| | | | |
| --- | --- | --- | --- |
| Size | Bolting (n x bolt size), ANSI | Bolting (n x bolt size), EN | Ref. No. |
| 1″ / DN25 / 33.7mm | 2 – 3/8″ x 55 | 2 – M10 x 57 | G3101 (UL/FM) |
| 1-1/4″ / DN32 / 42.4mm | 2 – 3/8″ x 55 | 2 – M10 x 57 | G3102 (UL/FM) |
| 1-1/2″ / DN40 / 48.3mm | 2 – 3/8″ x 55 | 2 – M10 x 57 | G3103 (UL/FM) |
| 2″ / DN50 / 60.3mm | 2 – 3/8″ x 55 | 2 – M10 x 57 | G3104 (UL/FM) |
| 2-1/2″ / DN65 / 73mm | 2 – 3/8″ x 55 | 2 – M10 x 57 | G3105 (UL/FM) |
| 2-1/2″ / DN65 / 76.1mm | 2 – 3/8″ x 55 | 2 – M10 x 57 | G3106 (UL/FM) |
| 3″ / DN80 / 88.9mm | 2 – 1/2″ x 70 | 2 – M12 x 70 | G3107 (UL/FM) |
| 4″ / DN100 / 114.3mm | 2 – 1/2″ x 70 | 2 – M12 x 70 | G3108 (UL/FM) |
| 5″ / DN125 / 139.7mm | 2 – 5/8″ x 85 | 2 – M16 x 85 | G3109 (UL/FM) |
| 5″ / DN125 / 141.3mm | 2 – 5/8″ x 85 | 2 – M16 x 85 | G3110 (UL/FM) |
| 6″ / DN150 / 165.1mm | 2 – 5/8″ x 85 | 2 – M16 x 85 | G3111 (UL/FM) |
| 6″ / DN150 / 168.3mm | 2 – 5/8″ x 85 | 2 – M16 x 85 | G3112 (UL/FM) |
| 8″ / DN200 / 219.1mm | 2 – 3/4″ x 115 | 2 – M20 x 115 | G3113 (UL/FM) |
| 10″ / DN250 / 273mm | 2 – 7/8″ x 125 | 2 – M22 x 125 | G3114 (UL/FM) |
| 12″ / DN300 / 323.9mm | 2 – 7/8″ x 140 | 2 – M22 x 140 | G3115 (UL/FM) |